Black Forest is Alive and Well
There's just nothing like living in Black Forest, Colorado.  Black Forest captures what many see as the ideal rural lifestyle, all the modern conveniences just minutes away.  For decades people have chosen to buy land and build in this large area instead of neighborhoods with HOA's, wall-to-wall homes and tiny lots.  Much of Black Forest is comprised of five-acre tracts of land for building. That's plenty large enough for some elbow room, but not so costly as to wipe out your building budget.  Land prices start around $350K for treed lots, and a bit less for tracts on the grasslands.  For many, this region of the Front Range is the ideal prescription for a perfect place to live.  You'll find an idyllic combination of views, homes, open skies and a unique feeling offered in precious few other Colorado locations.
125+ square miles means choices galore
Black Forest is a huge area; any two or three Colorado Springs or Denver suburbs would comfortably fit in its borders.  Relax, this fantastic place is by no means "built out," with many premium parcels of land and homesites available and thousands of remaining untapped acres.   Check the listings below under existing homes and land.  Choose from land in the trees or on the grasslands.   The views are incredible and just about unavoidable here.
Who Lives in Black Forest?
Black Forest remains very popular and has a diverse population, including young families just starting out who want their kids to be able to play in the woods or even have a horse.  Black Forest is also popular with executives, small business owners, as well as the civilian and military workforce at the US Air Force Academy.  Retirees are also well represented here; they know that staying active on your 'own slice of heaven' is essential to good health.
Land, Wells, Electricity, and More
You will need to consider a well and septic for just about any home build in Black Forest. I regularly walk my clients through this process. Costs can vary from under $25K to over $45K, depending on well type and just how deep we have to go to create a reliable well.  No worries here, we'll have a very good idea of what that will cost before the drill ever hits the ground.  Electricity is readily available along most streets in the area.  Natural gas is available in some locations, and you can choose from many LP gas providers servicing those areas without gas. Cellular service is present in most of The Forest, though spotty in places. The Front Range of Colorado has a problem with swelling soils, so I always recommend an expansive soils study on any lot you'd like to put a contract on. The good news is that, generally, Black Forest has fairly good soils.  Though just like any place in Colorado, it can save literally tens of thousands of dollars to check soil conditions before closing on that gorgeous piece of property.
The 2013 Fire and an Unexpected Benefit
Many remember the Black Forest Fire in the national news a few years ago, so I'd like to touch on that briefly.  Most importantly, the fire did not burn all of Black Forest by any means.  It followed "fingers" as it was blown to the north over those terrible days.  It was a heartbreaking and difficult time for all of greater Colorado Springs.  Around 500 homes were destroyed as were innumerable trees, but thousands of other homes and a great deal of the acreage remained untouched. The rebuilding efforts were spectacular, with a tremendous percentage of owners back in brand new homes on their land.  In many western woodland fires, the burned-out residents pack it in and don't rebuild.  Not so for Black Forest, with a high percentage deciding to stay.  An unexpected benefit of the fire has been that in some places, sweeping views the entire Front Range have opened up, prompting many to purchase and build on those lots in particular.
Black Forest, Colorado Existing Homes and Land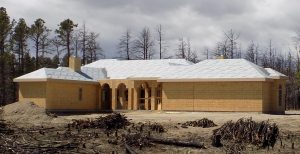 Take a look at homes and land available in Black Forest. These searches are preconfigured for your convenience, but all are easily customizable by clicking on "modify search" at any time.
Black Forest, Colorado, offers a unique lifestyle.