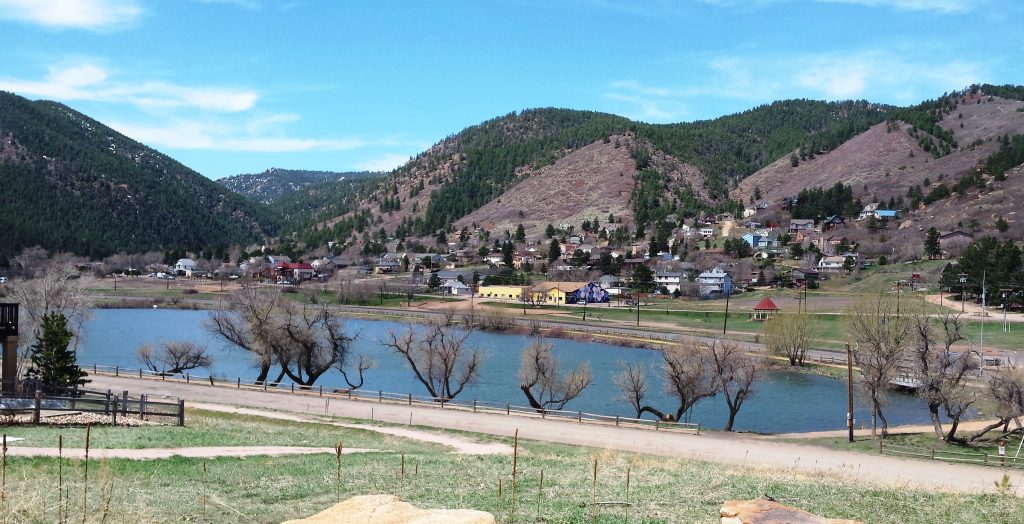 Palmer Lake, Colorado puts you in a Rocky Mountain frame of mind
Welcome home to beautiful Palmer Lake, Colorado.  If you love a small town with undeniable charm that's surrounded by trails and fun, this just might be your special place. Meet Palmer Lake in northern El Paso County.  Sitting at 7,300 feet in elevation and surrounded on all sides with one amazing view on top of another, you will definitely feel connected to the Rockies.  Palmer Lake is popular with artists, nature seekers, and those who really just want to have the feeling of escape when they come home to paradise after a hard day's work.
Palmer Lake homes range from mountainside customs overlooking town to ranch style homes right beside the lake.  To the south, Red Rocks Ranch boasts a variety of home styles on three to five acre lots.  At present, there are no new home subdivisions going in Palmer Lake.  To some, this is a surprising and refreshing aspect of life here.  Part of the cause is that most of the land that is horizontal enough to build on is either park space, conservation/ranch land, or already built on.  To the north, most of the land in nearby Douglas County is offered in larger tracts of ten or more acres.  As time goes on, no doubt some will continue to perch a home or two on the sides of surrounding mountains, but wide scale development seems unlikely simply due high cost.
Homes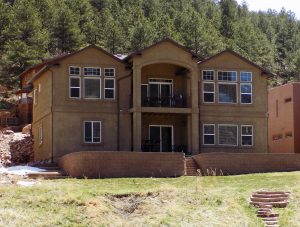 Check out a range of Palmer Lake Homes below. Any search here is easily revised with a few keystrokes under "modify search."
Pineview / Red Rocks Ranch Area
Commute
For all the nature surrounding town, Palmer Lake is hardly remote. Five minutes to the east is I-25, offering easy access to Colorado Springs (25 minutes) and Denver (45 minutes.) Or take highway 105 to the south and you'll be at the Safeway in Monument in about six minutes and other shopping in about ten minutes.
Parks and Recreation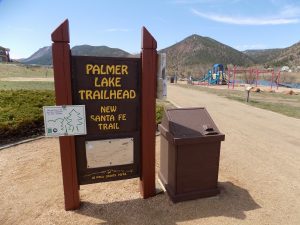 The park at the lake offers fishing, a trail surrounding the lake, a Frisbee golf course, volleyball, a pavilion and of course a playground for little ones. If biking, running or hiking are on top of your list, Palmer Lake can't be beat. The New Santa Fe Trail runs right through town. Hop on it and head through Monument, Colorado Springs and eventually all the way to Fountain, which is dozens of miles to the south.
To the north, The New Santa Fe Trail connects to a network of trails including Spruce Mountain, Greenland, Kipps Loop and more. Trust me, just about any glance you take here looks like a postcard. For a bit more of a challenge, head up the Reservoir Trail. You'll experience two mountain lakes that will take your breath away. And you guessed it, the reservoir trail connects to a massive network of much more challenging trails up Mt. Herman and far beyond.
Dining and Shopping
When you return from your workout on the trail and catch your breath, head over to O'Malley's for a cool drink out on the front deck, overlooking the lake.  The laid-back atmosphere of the place is the first thing you'll notice.  Also, take my advice and order the wings, and you'll agree that they are about the best out there. If the restaurant experience suits you better, try The Villa.  Most people say they did not expect Italian food this great in a town this size.  For other choices, look here.
Palmer Lake, Colorado is definitely worth checking out. Give me a call today at 719-761-0546 for the latest on what's happening in this awesome area.