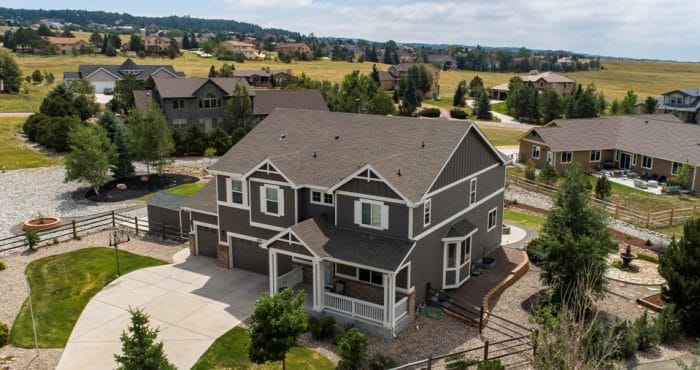 Is 2022 a decent time to buy a home in Colorado Springs? I rate it 'good enough,' though there's not really a simple answer this time around.
By Greg Tomlinson
After an unprecedented boom in real estate values, people are asking, "Should I buy a home in Colorado Springs, or sit tight a while?" Another question I hear is, "Things are going well for us, and we'd like to upgrade houses. But I worry that we'd be buying our next Colorado Springs home at an inflated price. What do you advise?"
At most any interval in the last couple decades of US real estate, it's been fairly straightforward to 'say' if a time was good or bad for buying a home. However, this market is different than most. I'd have to rate 2022 as a 'good enough' time to buy, but entirely depending on a person's individual situation. I normally like to give more definite answers, but right now the data offers a bit more nuance. So, please hang in there with me. I know this is a longer piece, but you'll be rewarded with more complete information than a simple yes or no could provide.
Since I became licensed in 1998, I've disliked the 'Now is a great time to buy!' slogan. It's overused and often wrong, sometimes very wrong. Late in the run-up to the 2008 housing crisis, plenty of gums were still flapping about, 'awesome time to buy.' Ugh. Around that time, I worked with a large real estate developer in Georgia. Now, I'm no fortune teller, but I started warning them in spring 2006 about signs that I saw of an impending crisis. It didn't matter much, no one wanted to hear solid data on what was likely coming our way.
I guess that's why I'm at least sympathetic to the contrarian view. It's true, I can be averse to going with the pack. I also don't expect great outcomes to magically happen without hard work and careful analysis. So, I offer that combining contrarian traits with over two decades of success at real estate sales gives me a fresh and unique perspective in analyzing markets. And, not to brag too much, my clients agree.
The Three Perspectives
With those ideas in mind, I'd like to ask and then analyze a common 'housing market' question. Given that pricing has risen rapidly to high levels and homes are scarce in Colorado Springs, how should buyers respond in 2022? Let's parse the question through three distinct perspectives, and then apply what we've observed.
Perspective 1. Optimist: Answers that people should buy defensively now, before the home of their dreams forever drifts off beyond their reach, far away, beyond the clouds of rising interest rates and destructive waves of inflation.
Perspective 2. Contrarian: Answers that they see the beginnings of trouble. They say things like, "We're already 8 months into another bubble; we just don't know it yet! Hold off and buy at the beginning of the next cycle in half a dozen years."
Perspective 3. Balanced: Answers that the nature of real estate is cyclical. Take a chill pill and mellow out! This is the next progression of a mature market. 'There be dragons out there,' since economic cycles often come to ugly ends. Proceed with caution, but you must live your life.
Now, let's hang some meat on the bones of each perspective by incorporating facts that we can reasonably observe and know. Starting with perspective one:
Perspective 1, Hurry up and buy a house or piece of land now, while you still can. It's a great time to buy!
The current interest rates around 3% are amazing, jump on them. It appears we'll have three rate hikes for the year, ending with rates around 3.8%. Still not bad.
While higher rates may have some negative impact on home pricing, meaning they could drop, it likely won't be much.
Rates are unlikely to become excessive because the Fed has no choice but to battle inflation.
We're still millions of housing units shy of what we really need in the US.
In Colorado Springs, higher material pricing, excessive land and development costs all became baked in over a year ago. So, this really isn't even about inflation yet. That only started in late summer of 2021, so pricing definitely won't be coming down. Act now.
If you resist that pricing is too high, they often respond with something like this: "Pricing seems high, but is it really? We became used to high 2007 and 2008 pricing that cratered in 2009. Remember, in parts of Colorado Springs, home prices didn't fully recover until the Summer of 2014! Then pricing grew relatively slowly until 2018. The significant growth we've had in values has only been since then. Prices have responded to interest rates and market forces, and they are therefore correctly adjusted."
With interest rates hovering at low levels, and inflation stabilizing, pricing will climb a little more and then level off where it should be. After that, the Colorado Springs inventory crisis will naturally begin to resolve itself.
The optimist viewpoint also assumes that homebuilders will know when to stop adding supply, to avoid an inventory glut. It also assumes that the huge number of homes now owned and held as rentals by institutional investors will stay locked up. If the rental market ever destabilized, optimists tend to believe these companies won't dump all those homes on the market, as happened with private investors back in 2008.
I was careful here to stick with facts above, but you can see that they are arranged in a very positive way. Hey, who can't appreciate optimism? Sounds good, though probably too rosy. Now for the opposing side.
Perspective 2. It's a bubble. Don't do anything, wait for the crash, and bottom-feed or buy next cycle. Now's a horrible time to buy.
There are a high number of homes now over $1 million, even in non-remarkable areas.
More people will start listing their homes, and builders will start building more supply. Inventory will swell, severely weakening the market.
Rapid price appreciation is an indicator that the market is not stable.
The insane bubble in market activity is driven by an unprecedented demand for homes.
People are buying houses sight unseen, without so much as setting foot inside.
The Fed increasing interest rates will cause many new buyers to default on their homes. Many will stop buying all together.
Affordability is already being strained, even with low interest rates. There is reliable data that affordability in some parts of the US is now lower than the peak of 2007.
In my opinion, the interest rate and affordability points are the best arguments the contrarians have that Colorado's Front Range real estate market is in a bubble. But to make them financially toxic, mortgage rates would need to quickly leap up to 5.5% and higher. The Federal Reserve just about can't allow interest rates to go that high. They're already saddled with managing the crushing amounts of debt our country has foolishly undertaken. Therefore, they can't tolerate high interest rates any more than a drowning person demands more water. So, while it's conceivable that we could see rates over 5.5%, it'll take time to get there, hopefully allowing the market time to adapt. **
The affordability question is also a real concern but appears to be more national in scope. Some markets around the US are becoming strained. Locally, it appears that for now, Colorado Springs is in decent shape on this critical metric.
Above are some decent arguments, but they don't form a Colorado Springs real estate bubble. Worse yet for the contrarian position is that 2008's meltdown was greatly magnified by an excess of supply. These days, no one says we have too many houses. This is exactly why people are forced to buy a home they've never seen in person! (Clarification, the 2008 market crash is a complex subject, and I acknowledge that there were other contributing factors than housing supply alone.)
Who's happy with High Prices? Pretty much Nobody
Additionally, contrarians are very frustrated with high Colorado Springs home pricing. So is everybody. It drives up taxes and keeps many great people from moving here. It gentrifies entire new swaths of town. Many Realtors hate this disruption in our market. It costs us sales and has made things less affordable for clients we care about. Even sellers, if staying in Colorado Springs don't like what they'll have to pay for their next house. So, I suppose the only people happy with high prices are those leaving town? Them and maybe builders? Though I doubt even builders like this present situation. They know from experience that inflation and lack of affordability can and do wipe out markets.
Analysis Paralysis
Lastly, I think the contrarian position is helpful. It expresses the frustration we all feel, and it represents what can go wrong. It also reminds that caution is wise, not to go running off into the wild blue yonder so blithely. However, it's also paralyzing by its very nature. The viewpoint is completely unhelpful to someone who straight out needs a home. It's also largely unhelpful to people who desire to move forward in their lives. Or for people who are driven by personal and familial goals, with the right size and type of home acting as a hub of that activity.
Perspective 3. Live your life, do what you need to do but proceed with caution.
If you need a home in Colorado Springs, 2022 is a 'good enough' time to buy. This is my perspective, though I'm sure not mine alone.
I've had many clients over the years come to me for help finding that perfect home and say that while the market timing for buying wasn't that great, the option of not buying was worse.
I've heard many examples of why folks needed to buy in questionable markets: bad rental experiences, rental shortages, having to reinvest home sale profits, school districts and timings, kids needing to be in a family home with a yard, life goals, and many more high-priority reasons.
The lesson here is that perfectly timing a real estate market would be a great thing for a person to expect, if said person lived in a vacuum.
I'm not saying that we shouldn't do all we can to research, evaluate and consider, but most people can't shut down their lives and lay around paralyzed.
In this article's opening, I rated 2022 as a 'good enough' time to buy, but entirely depending on your individual situation. What I mean by that is if you need a Colorado Springs home, or need to upgrade from the one you're in, and your motivating factors are moderate to urgent, it is my opinion that there are better reasons for you to proceed with a purchase than reasons to delay. Here's that analysis:
Assuming you'd be planning on staying in a home for at least three to five years, buying now will lock in your payment against inflation, interest rate hikes, continued builder and developer woes, and the list goes on. That's a huge deal! And speaking of interest rates, even if they go up from 3% to around 4.5% over the next 18 months, it's doubtful that house prices will crash. Yes, prices will drop, but only as much as they are forced down from reduction in demand, no further. I think we can conclude that for now because there are no simple cures for our demand imbalances; we won't be seeing substantially more new homes in Colorado Springs in that same 18-month period.
The Rates giveth and The Rates taketh away
We know based on Fed comments that current mortgage rates of around 3% WILL go up. And I think we can derive that house prices WILL come down because of those rates, just as prices rose as rates have dropped. It tends to be an inverse relationship. However, and here's the big one, I offer that those two things should remain fairly balanced for a while. Rates will go up, house prices will drop, but only as much as balances the market, not enough to destroy it. So, purely from that standpoint, you probably can't go wrong by buying, but you could go more wrong by waiting.
Here's where waiting could be a bit riskier
In a hyperinflationary environment, which some analysts say may be possible soon, home prices have no choice but to continue to increase. And, if there's a market correction coming during a period of hyperinflation, prices can still skyrocket, but skyrocket slightly slower (similar to stagflation.) If all of this sounds crazy, it probably should. We've never been in a cycle where elected officials insisted on dumping cash "Hardcore Keynesian Style" into an already recovering economy, but I digress.
Let's again consider your house payment, but with higher home prices AND higher rates. Ouch! Now, we already said rising rates will cool off prices some, but we hadn't weighed high inflation then. In this scenario, prices rise either way, moderately or fast. If that cools the economy, the government will simply slow rate increases for a little while. But here's the important part: the consumer's getting hosed over, either way. Buying now eliminates that whole mess. Waiting has the potential to play right into it.
So, what could ease the home crunch in Colorado Springs to the extent that it could cause values to dramatically fall? If it was another market and scenario, I'd say builders might eventually 'overbuild' their way into a meltdown. For the moment, this appears unlikely, though I lack the space here to explain that in detail.
Thought experiment time machine?
Let's turn to one of the most important and surprising points of all. Comparing two different interest rate scenarios, what are the payments you'll make each month? Also, what's the total you'll pay over the life of your mortgage loan? With rates presently around 3.0%, let's consider a $450,000 home. (I used Veterans Administration loans here. However, conventional and FHA will yield similar results.) With a zero down VA loan, your principal and interest work out to about $1,897 per month. And you'll be paying a grand total of around $682,998 over the loan term of 30 years.
Now, let's suppose we could wait 18 months for a market correction. Or, more conveniently, let's use a thought experiment to go forward in time and drop the price of that home by $60,000. Viola, it's now down to $390,000. Unfortunately, over that same 18 months, interest rates have now increased to 5.0%, as some analysts expect. Let's grab our favorite mortgage calculator online and crunch it out.  The new payment on the same but cheaper home has increased to $2,094 per month! And now, over the life of the loan you are paying a whopping $753,697. Incredible. This almost doesn't make sense. Our thought experiment makes the home $60,000 cheaper 18 months later, but the rates are forcing you to pay an additional $197 per month and $70,920 over the life of the loan!
Hopefully this begins to illustrate precisely why so many people rushed out and purchased at fever pitch. To confirm my numbers above or play with different mortgage payment scenarios, try the standard Mortgage Loan Calculator on the Bankrate website.  Or their VA Mortgage Calculator as I used here.
So right? Feels so wrong!
Is now the time to buy a Colorado Springs Home? For many, it certainly doesn't feel like it because of the craziness of the market. I get that for sure. I also don't want to give anyone the impression they should buy in a purely defensive manner, such as because of hyperinflation no one can prove is coming. On the other hand, we've examined the plausibility of the bottom falling out in 2022 and that theory doesn't hold much water. Just about no one likes high pricing either. I'm saying we should be cautious, but also carry on with our lives. Overall, my real estate traffic light is yellow/green which says neutral to moderately positive over the next year to eighteen months. So, we covered a lot of ground in 2700 words! And I thank you for investing your time in this piece.
In closing, do I think we're in for some rough seas in Colorado real estate in the next five to seven years? Yeah, I'd give that a 70% chance. However, many of us have been through it before, and survived – even thrived. At the end of the day, if someone bought or sold a home every time the market needed an airsick bag or became too euphoric, they'd be moving frequently enough to disrupt most other important things in life.
**If rates do somehow go that high in 2022, it would mean that another financial earthquake is upon us, which is beyond the scope of this piece. (See Peter Schiff's stuff if you're curious.)