These days, we have all become accustomed to less than ideal news in Colorado real estate. But what happens when fortunes change and opportunities like Ravenna begin to present themselves to the savvy high end home buyer? Opportunity is knocking and you just found the right Realtors to help you leverage "the deal."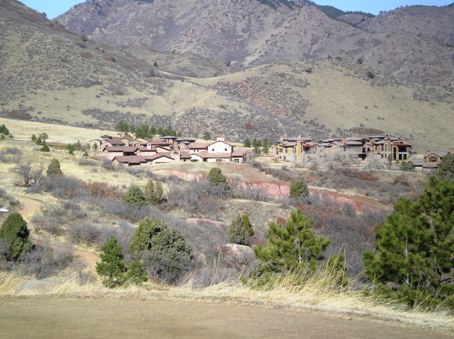 Let's say that a formerly distressed neighborhood becomes an amazing value? Well, that is exactly what is happening at the incredible Littleton, CO community of Ravenna.  People who are keeping an eye on this neighborhood are actually putting themselves in a position to discover great housing opportunities.  They want agents who can help them check out and purchase exclusive luxury property at a heavily discounted price.  Again, this scenario is about to unfold in Ravenna, a fantastic Colorado golf course community in the foothills of Littleton Colorado.
In a previous article, we mentioned the likelihood of Ravenna being purchased and reopened.   This now looks like a reality. The race is about to start for values and sales.  This previously distressed area will now thrive again and become what it was meant to be: a premier gated golf community with rising values.
The postcard views and golf course location make this a great luxury property deal in Denver. As with beach-front property, there are only a limited number of places like Ravenna. (Read our feature article here) The setting is too amazing to ignore. Check out the pictures in our previous post on this topic. Wow! This is just a remarkable place with a great Littleton, Colorado zip code.
Don't be the one saying, "If I only had the inside scoop I could have been a part of that." Please give us a call if you would like to see any of the current listings in Ravenna. It is after all is a gated area with very limited access.
In addition, it's just not advisable to wander into the purchase of a distressed luxury property without solid buyers representation with a reputable team. You need competent representation from a team of exclusive luxury Realtors – agents who know "the deal."
That is exactly what we do at Colorado New Home Specialists. A name and a team you can trust to get it right in exclusively representing YOUR real estate interests. We don't work for the seller, we work for you.
Colorado New Home Specialists, Ravenna Golf Course Community / Littleton CO, Reopening Soon