Solterra near Lakewood and Morrison is a unique Tuscan-inspired luxury community that has it all.
View Homes for sale in Solterra
Updated May 02, 2016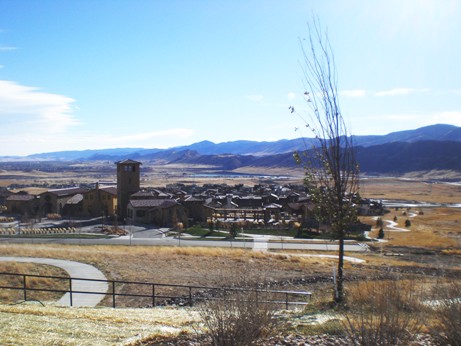 Solterra is located in the historic Rooney Valley of Lakewood, Colorado.  This exquisite community offers the distinction of straddling two worlds while being free of both: it's nearby to the mountains and yet very accessible.   Real Estate in Solterra is selling for good reason.  Homes here are also close to Denver without being a in typical "suburban" neighborhood.  You will find a full – feature clubhouse and an "infinity pool" with a visually stunning Rocky Mountain backdrop.  Solterra even has an amphitheater.  With existing resale homes for sale starting in the 500's,  this community has done nothing except appreciate in price since building has tapered down.
Though building is nearing completion,  it is not quite finished yet.  Some of the most unique homes were saved for last.  Brookfield Residential, a highly regarded national company, is making a mark with some very innovative courtyard style homes.  Solterra's other active builder is Cardell Homes, with the Infinity Homes Collection.  Wall Custom Homes and Toll Brothers also built many homes in this unique community.  Together, these builders provided Solterra with pallet of varying styles in real estate design for a diverse and selective range of buyers.  Those very attractive traits continue to into the present.  If you are looking for a spectacular home  in the Morrison or Lakewood, CO areas, Solterra is Colorado luxury living at its finest, and a must-see.
The area is a TEN
Lakewood, CO is a community that is close to the mountains, so the Solterra Community blends magnificently into the environment of the Colorado Foothills.  A sense of esteemed luxury awaits you.  Solterra's setting is that of an  Italian-style hillside village, and is tucked in a tranquil area 15 minutes outside of downtown Denver.  Outdoor lovers will be pleased that Solterra is surrounded by parks and hiking trails.  Postcard views of the famous Colorado Red Rocks amphitheater and Green Mountain Park are stunning.  Yet all of this is within an hour of the ski slopes.  In real estate, location is everything, and this location is a top-pick.  Shopping and all of the amenities you would expect from a luxury home community are abundant near Solterra.  Homes have sold here and will continue to do so into the future, for all of these very good reasons.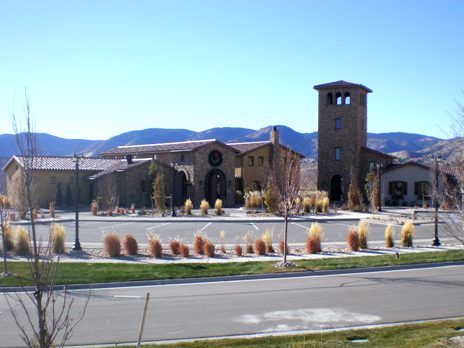 As soon as you arrive in the Lakewood location , you'll catch a glimpse of  Solterra's amazing Luxury Tuscan clubhouse with pool and fitness spa.  From organized fitness and yoga classes to serene spa treatments, homeowners have a tranquil place right at home to stay in shape and be pampered like royalty.   All of this fabulous activity is resident designed and driven.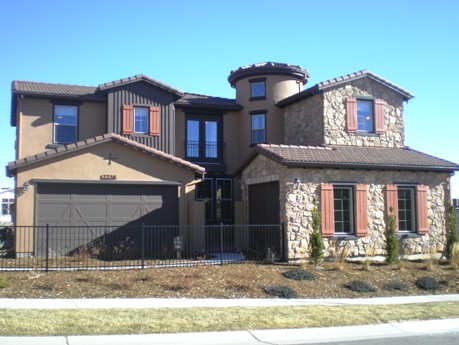 This amazing Lakewood, Colorado community features many types and styles of innovative new homes for the educated, upscale buyer.  Case in point: the ranch style luxury patio homes that were built by Remington Custom Homes.  These quality homes came in ten different plans, ensuring  there was a suitable layout for nearly every luxury ranch home buyer.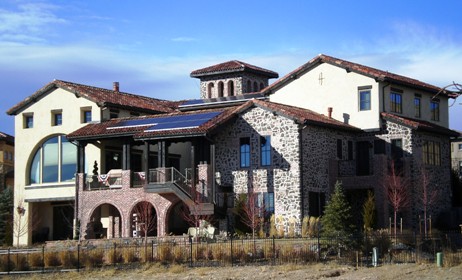 The custom builders in Solterra were handpicked by the developer, Carma Developers, and the architectural styles have weathered the test of time. (Carma merged with Brookfield Homes in 2011 to become Brookfield Residential.) Solterra's custom builder group included Ades Design, Cline Group, Element Customs, Gregg Custom Builders, and Sopris Homes.
With Solterra resale custom home prices starting around $1.1 Million and ranging up to several million dollars, it is clear that this neighborhood is not run of the mill.  Soltera always comes up in the top three communities anytime I have luxury buyers interested in seeing homes in the best places in their budget.  I hear the same from other agents as well.