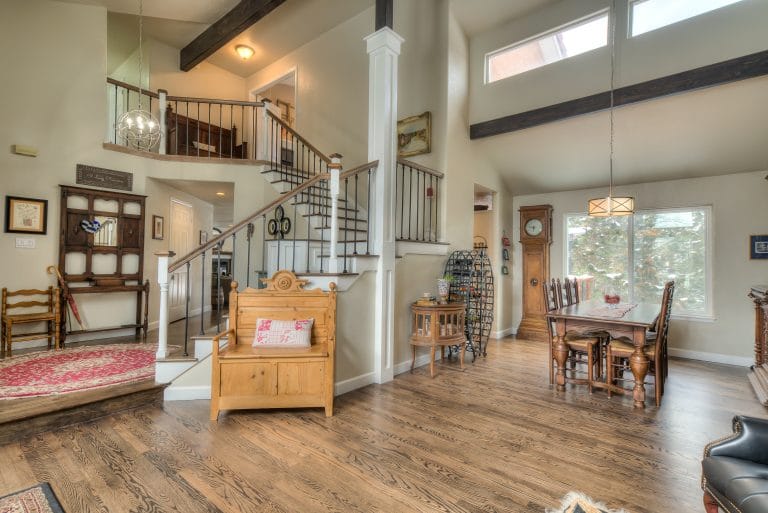 Where did all the houses go? I hear it from all my clients as well as friends and family. How did we get here? Surely, wise actions can resolve low Colorado Springs housing inventory levels.
By: Greg Tomlinson, January 5, 2022
To kick off 2022, I'm writing a series of articles examining our local housing market. No set of writings on this topic is complete without analyzing Colorado Springs Housing Inventory Levels
This article contains my opinions, which are based on working full time as a Realtor since 1998. Additionally, I spent a total of ten years working for builders and developers in sales and consultative capacities. In those roles and into the present, I've invested a lot of time attending seminars, studying reports, and following housing industry heavyweights such as the National Association of Homebuilders. While this experience doesn't make me a 'professor of housing,' it does provide insights I hope you'll find worthy of your time.  By the way, please check out the anchor piece for this brand-new series: Colorado Springs Real Estate Market Analysis for 2022. It's a practical guide for both buyers and sellers on 'what to expect' this year.
Here are 12 causes, exacerbating factors, and complications of low Colorado Springs Housing Inventory Levels:
The big 4
Exceptionally low interest rates motivated many previous renters to come into the housing market. The low rates also fueled move-up home purchases. Interest rate chart coming soon!
Appreciation due to increasing scarcity also played a role, allowing many people to upgrade to newer homes earlier than previously planned. Normally, these move-ups would have occurred over a much longer time frame.
Homes are being scarfed up by I-Buyers, corporate interests, and investors specifically for use as rental properties. They have openly stated that Colorado Springs is a target market, and we've seen plenty of impact here. Because of the way rents work, these players can sometimes pay up to 15% over market for homes. Yes, you read that right. They regularly outbid all other parties, and some say that they have driven up pricing second only to interest rates. (Except that if we have a drop in pricing, I think we'll be seeing these properties again. Dumped on the market and possibly in 'glut' form? In other words, reminiscent of 2008. Here's a serious potential threat to our market that few are talking about.)
A ton of would-be sellers are staying in their current homes. They're unhappy with the choices of lots, availability, or pricing of their move up or rightsizing home. In other words, nowhere to go that competes with the awesome homes they already have.  We see it in the Colorado Springs real estate market as well as nationally.
The big 4 are out of the way, but the next 4 are no lightweights either
Very few distressed properties have been entering the market. High equity levels have helped to ensure that just about nobody is underwater. Few people are walking away from their homes, which is fantastic. I'm simply pointing out that distressed properties have always been a measurable part of supply that's now missing.
In Colorado, there have been new construction challenges and bottlenecks to getting supply on the market. These obstacles include planning and development issues, labor shortages, land availability, and difficulties obtaining all types of building materials. These disruptions predate COVID or the 'supply chain crisis.' Those things have only exacerbated an existing problem.
The COVID 19 pandemic has had a big impact on housing in several profound ways. The work from home phenomenon began allowing people more flexibility in where they live. Working from home and quarantines caused many in our society to develop an increased focus on quality of life. Makes sense, and we all guessed it, for many this means larger homes and designs with more and separate living areas, etc.
High demand has accelerated a kind of secondary market that is absorbing some of the normal supply. Homes often move via word of mouth, friends, family members, social media, etc. Therefore, some homes never hit the market. It's true that the supply still technically exists, but it doesn't feel that way to the consumer.
Interesting Data
As a result of the last downturn, there was a massive shortfall in construction during the decade of 2010-2019. And there's a chance we might not ever get those missing units back. Here's what happened: nationally, between January 1, 2010, and December 31, 2019, there were only 6.8 million single-family housing starts. For a sense of how big of a deal this is, the previous decade, 2000-2009 saw 12.3 million starts! Plus, when considering the increased population of that decade, the loss of those units becomes even more stark. Read more about this under-reported shortfall in an excellent article from the National Association of Homebuilders: A Decade of Home Building: The Long Recovery of the 2010s | Eye on Housing
There was also significant decline in US homeownership rates in the last decade. According to the St. Louis Federal Reserve Bank, the national homeownership rate plummeted to 62.9% of the US population in the second quarter of 2016. By the second quarter of 2020, the homeownership rate had increased to 67.9%. The crashing of those rates in 2016 is without precedent in recent history and contributed to fewer permits for new homes. Homeownership has pulled back some due to the 2020 recession but is still higher now than it's been in several years, which also strained the housing supply.
And the last two are the author's personal observations
We endured a profusion of national web and print articles from 2010 to 2014 that amounted to a large-scale sociological effort to discourage homeownership.  The gist was that it was dumb, or at the very least, falling out of fashion to own a home. Owning was more expensive than renting, gave no flexibility, and maintaining a home was a nightmare.  Seriously, some of these pieces were downright comical. I believe this campaign had at least some role in fewer housing starts and I suspect may have also been a factor in homeownership resembling the Mariana Trench in the graph above around 2016.
In the same era, there was another national disinformation campaign. Endless pieces were written about how much smaller the ideal American home would soon become. The claim was that people were now becoming environmentalists and they suddenly loved small spaces. (This was untrue in at least two regions of the US at that time.) The media also insisted that much of this smaller housing supply would be multifamily. I think the campaign skewed at least some single-family construction towards smaller homes and multi-family. That's fair, maybe we needed those units. Who knows? However, consumers aren't a monolith. They often change their minds and conceptions about the ideal place to live. So, when we needed more and larger single-family homes, we had less of them.
Obviously, the list above could contain a few more or less items.  Also, a person might argue that the last two are speculative. Let me know if you remember these ludicrous media campaigns. (Not many of these articles remain on the internet anymore. Guess if I'd written them, I'd want them deleted too.)
* Please see note below regarding losses of homes to fires.
**Why population growth is omitted in this list.
The problem with Colorado Springs Housing Inventory Levels is not trivial
Both nationally and locally, many of these items are not simple or trivial. They have given us a serious inventory imbalance and need to be remembered. Some of these challenges will work themselves out, while others are more insidious and long term. Right now, it feels we are short about 20,000 units in Colorado Springs and 5 million across the US. However, US housing levels are an immensely complex topic and beyond what I'm trying to say here. As an example of this complexity, and in fairness, there are a small number of experts saying we already have too many homes! Click here. While that's inconceivable to most Realtors and many people here in Colorado Springs, there are a few interesting points in the perspective.
The biggest controlling factor and variable acting upon Colorado Springs home inventory levels is interest rates, which tops the list. The government holds all the cards here and can literally make or break markets. In the case of Colorado Springs, we had a reasonably healthy market BEFORE the dramatic rate cuts. But, even then, our local housing supply was already becoming tight. The rate cuts were a lot like pouring gasoline on an open flame.
What would it take to normalize Colorado Springs housing inventory levels?
In winding things down, how can we ever return to more balanced supply and demand levels? As with all things related to markets, easy does it. If we've learned anything in the real estate industry, it is that balance and restraint win the day.  Greed, quick fixes and easy solutions make things much worse. In other words, we don't need corporate investors dumping millions of houses when their rents or values fall. What the new wave of corporate investors might do when threatened remains an unknown. As far as housing producers go, we don't need builders overshooting the supply and burying us in houses again. This happened in many major metros in the US in the leadup to 2008. Fortunately, Colorado Springs and Denver are in better shape because of prudent planning by our local builders. Frankly, we should still be applauding them. In the immediate, gradual interest rates hikes will naturally cool the market, tough it's hard to see higher rates as 'good' because they also impact affordability.
Across town, Colorado Springs builders are getting many new communities ready, but there's little chance pricing will become lower. That's because all facets of construction are now married to higher costs. Anyone who works in my industry knew that inflation wasn't transitory, as was fibbed about for a while. Inflation had already started in the building segment in 2019 or so. The new/additional inflation will pile right on top of that already higher cost basis.
I need a house, but my rational instincts say the timing's bad
Regardless of the source and timings of inflation waves, they will have the effect of 'locking in' higher pricing, which relates to now maybe being a better time to buy, even if we don't like it. Interest rates remain low: if someone needs a home already, buying defensively offers the benefit of locking in payments. Due to low rates, it's also way cheaper to buy now in the sense of the total made in payments over the life of the loan.
If you need to buy, or want to buy, sure, I'd recommend proceeding, but doing so carefully. Please check out this feature length on that. 'Is 2022 a decent time to buy in Colorado Springs?' (Click Here) This article is constructed in a very objective way. Trust me, it's not a puff piece on rosy skies and why real estate is so amazing.
Above all, call me if you want to chat about any of this. Yes, I'm tech savvy, but I still love the phone, and greatly enjoy discussing all facets of real estate. My mobile is 719-761-0546.
They might wish for our problems
Note: It's also important to remember that some areas in the US never recovered from the '08 housing crash. I always try to stay mindful of how difficult that continuing reality is for the good people of those places. Maybe compared to them, our problems fall into the 'annoying, but manageable' category.
Thank you for your readership, it means a lot to me!
*Fires revisited
The Black Forest and Waldo Canyon Fires were not included because the vast majority of those destroyed homes were rebuilt by 2018 or so.  The recent and tragic Boulder County fires are worthy of their own article and will primarily impact the metro Denver market.  However, Colorado Springs will almost certainly feel some fallout in material and labor scarcity, though it's a bit too early to say how much or when. The Springs may also feel a temporary and minor ripple in rental markets as spill-over from the Denver rental market fans out. Our thoughts, hopes and prayers for a rapid recovery are with all of those whose lives were inexorably changed by this harrowing event. 
**What about Population increases?
Before I started the research for this piece, I would've claimed assuredly that population increases were at least partly to blame. However, facts can be interesting things. The best data out there says that El Paso County, Colorado only added 8,300 people in each of the last three years (click here). Except for 2014, that number is down from AT LEAST the 15 previous years!  So, while 8,300 additional people is not an unimpressive number, that's only about a 1.2 % population increase. Arguably, a pretty manageable number for a large US county with a population in excess of 735,000. Builders already target and build to that number anyway. Now, while do I suspect that growth number of 1.2% is low, I can't currently prove it.
2022 Colorado Springs Housing Inventory Levels.